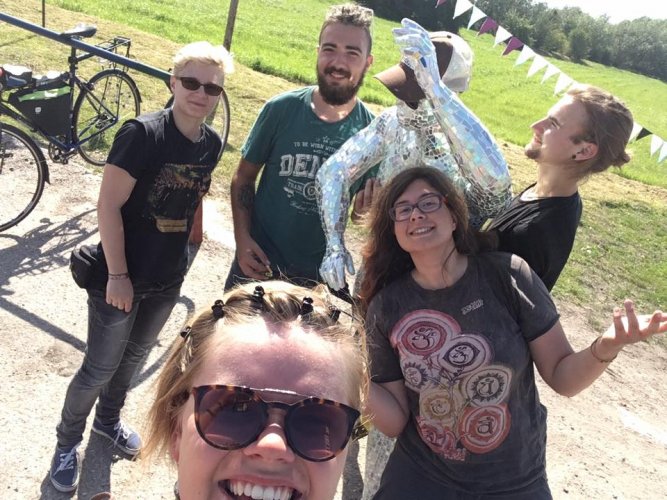 Lucija's story
I am a volounteer that signed up for a project called "No bikes, no party" which accepts travelers in need of accommodation and gives them a place to sleep, eat, meet other people and participate in a wide arrange of workshops mostly covering travel related topics.
I remember my mom saying that I didn't start packing and preparing early enough. I disagreed: "I just don't like to live forward when I can live now." And being in such a mindset I didn't think much about my upcoming EVS until it really started happening.
---
As always, I packed my bags in the nick of time and arrived at the airport to meet my future colleagues and roommates. After doing some acro-yoga and capoeira at the airport with them and playing some mind games on the way to Liepaja I decided I like these guys. That is, I realised it won't be boring.
Our recieving organisation picked us up from the airport and drove us straight to our future residence. I would say my first impression of that night was... hm, freaky. Oh, yeah! Did I mention it was night? 'Cause it was. Pitch black, driving through unfamiliar teritory with unfamiliar people. We were left on a construction sight where the travel schol was located. Our future residence... hm... didn't seem inhabitable when you looked at it drom the outside that night. "Ok", I thought, "They probably cleaned up inside though." Well, they actually did but because of the state oft he building it didn't really seem so. Fifteen years of non-existing human presence does that to an old shoe factory. Conclusion: It didn't seem inhabitable from the inside either. Checked with the other volounteers: didn't seem bareable to them. When I bounced onto my bed dust came flying through the sky. The bunk bed didn't have a ladder for getting up and the volounteer that was on the lower bed had parts of wood falling down on her face and a bad cough and running nose from alergies. Hm... Maybe I should have started preparing earlier? Maybe by asking where we were going to end up. But hey, let's see what we can do out of what we have. Those first few days the air was really filled with skepticism and I even remember suggestions of going back home if it gets worse. But hey, we remeberd that we could communicate!
Communication is always a good thing <3 With open ears it end up in mutual understanding, solving problems and loads of more good stuff too. So yeah, our problems were solved. We moved to another apartment and had enough time to make the place of our project livable for our future guests. We prepared the house and the workshops and got to know Liepaja better. And after a week of accommodating it seemed the more I stayed the more I liked where I was and what I was doing. It was a really amasing project filled with amasing people. Although I was prepared and had knoweladge to share about traveling I learned a great deal of tips and tricks from the other travelers and the other volounteers as well! I cought up on some basic Latvian soon so I could go to stores without using interpretative dance which I found amasing. Our neighbour at the apartment was also awesome and we managed to befriend eachother even though we didn' have a normal method of communication (we don't know that much of Latvian and Russian and she didn't know Croatian or English) so interpretative dance did come in handy. We baked pancakes for her, she yelled at us for being loud at night and then took us to a trip to a nearby lake and through a region called Karosta. As well as developing language (mostly random Latvian, Russian and Danish), travel and interpretative dance skills I learnt how to drum some basic rythms, how to juggle with flower sticks, how to advertise efficiently with guerrilla marketing, where can you pick up fresh water from rivers, some new recipies, something more about bikes and bike parts, how to ride freak bikes, acro-yoga, and... Most importantly I learned more about myself here. On what I should work, what I should improve. Which things work in which situations and which not.
And I got to travel a bit too! If you manage your free days carefully there is a lot that can be seen and experienced. Liepaja by itself is beautiful but so are Sigulda, Cesis, Jelgava, etc. And the nature here too! We even got a chance to go to Estonia and Finland and it was a really amasing experience! As for volounteering here, I loved it. I was alredy familiar with leading classes but now I was mostly talking about and teaching things that I loved. So I was never tired of it. As well as doing workshops and taking care of the school and travelers we participated in night bike rides around Liepaja (and once even Grobina), made documentary evenings, made LGBT related events, helped out at the bike workshop and the youth festival, made a charity event for a loccal dog shelter and loads more.
I think I already said it: the more I stayed, the more I liked it. It has certainly been an awesome experience out of which I'm going out a bit more knoweladgable, a bit more skilled, with a few more friends and dear people that warm my heart and an eager anticipation of another EVS project int he future.
Lucija Salinovic
Project "No bikes, no party" is realized within the "Erasmus+: Youth in Action" programme and is financed by European Union.