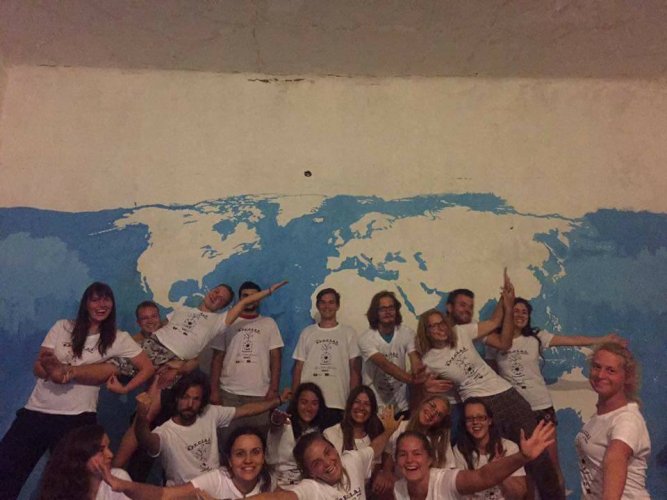 Jolanta's story
EVS S.P.E.C.I.A.L. in Latinovac,Croatia 2 months?
Felth like 2 weeks.
I would like to start with big thank you! It was the best two months in my life far away from Latvia and getting to know something new.
Croatia a big beatiful country full with great people to hitchhiking with. But first of all what we did there? Our topic was permaculture. What is permaculter? Permaculter is everything about gardening, composting, recycling leftouvers and feeding worms to get there pee for gardening.
---
We had Požart in Požega where we traided to spread info about evs and camp, we had camp with Požega people(from 30km city), we had straw fest with convergents where we did nothing and felt left out. We also had FREE time when we went evrywhere( Hungary, Bosnia, Croatia- Zagreb,Osijek,Slavonski Brod, others whent to Serbia, Slavonia, Croatia see site and Kosovo).
We stayed in small willage in Latinovac, the closest shop was in Čaglin 3km away, the closest city was 30km away Požega or Slavonski Brod. We stayed with hosts 3 people in one house others 3 in one room. In my hosts house stayed one more Latvian and Lithuanian, we had to our self all second floor. The hosts where nice in house, but when they asked for help everyone hated them for they roodnes and for that the host did not respect volunteers like a humans at all rather like slaves. But in other hand we had the best neighbour in all times Drago he loved volunteers and everyone loved him for his openness and carringness and everyone wanted to help him in any time.
We had permaculture lessens and Croatia lessens. How our coordinators said: ''This group isn't very interested in learning Croatia.'', but I still liked those classes and the funniest part was that some words are similar to Latvian language and those who understand Russian they will understand Croatian.
The only thing in all project that no one (from volunteers) liked was convergent or the Straw fest. In convergent people come from all around to get diploma and it went 3 days, we needed to have fun and we did before not during. Coordinators weren't organizating all our time and we all needed to sit in the hottest day in our kitchen and wait when they will give something to do. But because we did not have lot off sleep because of birthday we were tired and because presentations were in Croatian we missed opportunity to learn. But we had sleep under the tables.J
Bosnia is outside the EU, but there is everything soooo cheap you cannot imagine, like half the price. If you ever want to shop, see mountains, handmade jewellery and dishes from copper you need to go to Bosnia.
I fell in love with Hungary, Budapest!!! Ahh... Budapest the most beautiful city in my eyes.  I cannot explain what I feel for it, we had one girl from Hungary and she showed us as much she could in one day, but for me it was enough. I have not much to say about it, just that one day I will return and live there.
Jolanta Vītoliņa
Project "S.P.E.C.I.A.L." is realized within the "Erasmus+: Youth in Action" programme and is financed by European Union