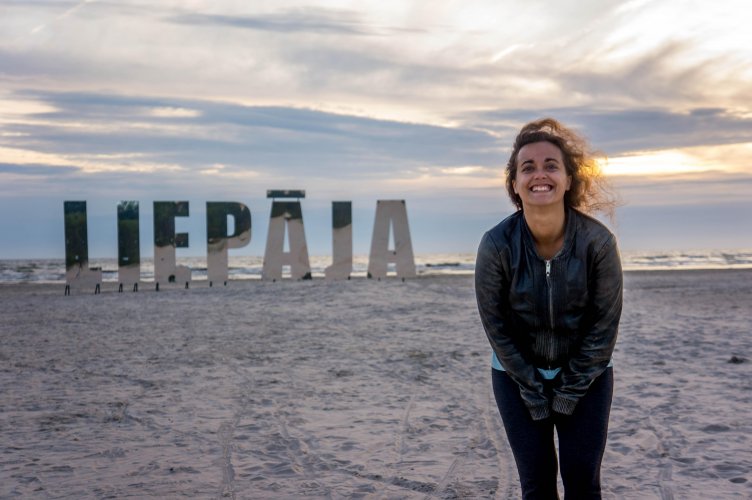 Ana's story
I got a chance to go on an EVS in Liepaja, Latvia. I was supposed to be a volunteer/host of the Travel School, a project I found super cool from the start. And so, in lack of a better summer plan, along with 3 other girls I had just met, I flew north. Didn't really know much about Liepaja at that point, except that it has a beach. A nice beach with a wannabe Hollywood sign.
---
First impressions: the sea was cold and lacked salt, and the way they make coffee is abolutely abhorrent. Still, not many bad things apart from that. We got to explore the city and met a bunch of friendly and supportive people while preparing for our project to start. Basically, for two months over the summer, we were supposed to meet and greet people from all around the world, who'd come and stay for a few days, and we'd organize some travel-related workshops. At the beginning, I was really unsure of how will I contribute to the project and what will my exact role be. I didn't think there's anything relevant I can "teach" people about travelling since I had never organized workshops of any kind before. But it all fell into place very quickly once the whole thing started. Everyone chose topics they were comfortable with, based on their experience or hobbies. Or we'd just put a blank map and a bunch of empty post-its and called it Creative cartography workshop. That one was my favorite.
I got a chance to go on an EVS in Liepaja, Latvia and I gave it a shot. And I've learned a lot from the whole experience. Met loads of new people from all over the place. People from Japan, Australia, Mexico, Latvia, China, Canada... Some of them stayed only for a couple of days. Some of them I got to know throughout the entire two months of my stay. And together we've partied, worked, fixed bikes, climbed trees, drove a taxi on the water, slav squatted, and went to prison. So yeah, I've definitely made some new friends along the way. Also, I had a romantic photoshoot with a pink unicorn on the beach. Which shows you you can do anything.
EVS gives, in my opinion, great opportunities. Allows you to travel. To explore a new culture and meet fantastic people. But also, to discover more about yourself. And the cool thing is, anyone can do it. No experience or money is needed. And it's normal to have no idea what's going on at first or what are you supposed to do. It will work out just fine. My time in Latvia is coming to an end and I must say, I'm sad to leave. I even got used to the cold sea. The coffee is still disgusting though.
Ana Koren
Project "No bikes, no party" is realized within the "Erasmus+: Youth in Action" programme and is financed by European Union.
{gallery}2017/08/anas_story{/gallery}