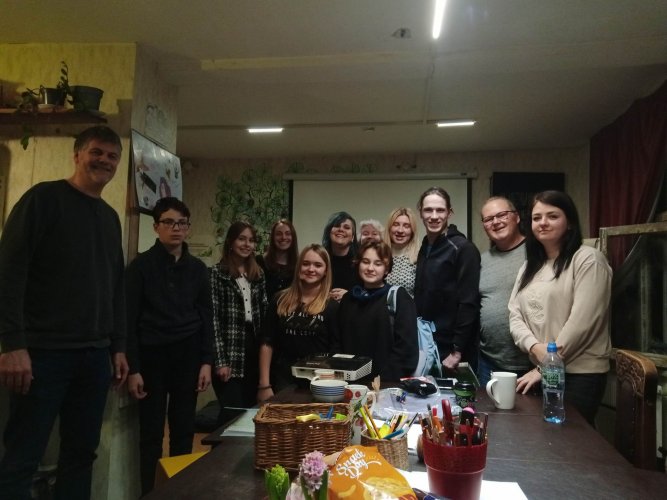 Volunteering in Radi Vidi Pats
Hey, I'm Levan, volunteer from Georgian In Liepaja (Radi Vidi Pats).
Before coming to Latvia, I had a lot of experience in teaching foreign languages, so I decided to run English and Georgian language clubs. I am happy when I see the result of the work done and the feedback from people. I think that despite the new environment, a number of differences and difficulties, I was able to adapt easily and lead projects tailored to the needs of the society.
Teaching Georgian proved to be a real challenge, as there is no language of its own and it is difficult to teach foreigners. However, after four months we have achieved an extraordinary result: The students can already communicate in the Georgian language and, in addition, we held a cultural event on the Georgian language where we talked together with the group about Georgian culture and traditions as well as our own experiences regarding Georgia.
We are really proud to see this progress and to share our experiences.
The English language club for Ukrainians is one of my projects that unites a caring and professional team. To this day, people with different experiences and professions run this club completely selflessly, and I am immensely happy when I feel the support and commitment of the community. I am very proud of what we have achieved, because our participants are already speaking boldly and the number of students is increasing every month, which is very gratifying.
So every Tuesday at 6pm is unchangeable date of our meetings, which is very enjoyable and fun.
And now I would like to proudly introduce our volunteer teachers:
I'm Anita, a New Zealand-born Latvian, who took the opportunity to return ''home'' permanently to the Kurzeme region of Latvia. I have created a seasonal business here in Liepāja, which leaves me with plenty of time to do other things during the off-season.
Last year I saw an ad on Facebook from Radi Vidi Pats which was aimed at Ukrainians who wanted to learn English. As a CELTA-qualified English language teacher (who, admittedly, hadn't taught for nearly 20 years), and native English-speaker, I thought I would turn up to the first lesson and help out. It was there that I met Levan and found out more about the English language project, and Radi Vidi Pats. I became the teacher, and am delighted that friends of mine have become involved, too.
Lessons are focused on communication, and we ask our students what they would benefit most from learning. Our teaching and learning is collaborative, and everyone who participates brings their own skills, talents, interests, and personality to our classes. Lessons are fairly informal, and in a relaxed and inclusive environment that makes learning fun. Behind the scenes we talk about which parts of our teaching were most effective, what we want to teach in upcoming lessons, and how we can best meet the needs of our students who are of a broad age and stage range. We also run irregular games nights at my apartment where we have lots of snacks and lots of laughter. We aim to have more off-site activities and excursions as the weather gets warmer.
My own family fled Latvia, and was given opportunities to learn new languages, find work, and settle in new homes in new countries. I love that I can help others in the way that my family was helped long ago. We are all connecting with each other, and learning more about each other.
Us teachers were newcomers to Liepāja, too, and have experience with finding people and places, and navigating life in a new country. We want our students to know that they can ask us anything and, if we don't know the answer, we will find someone who does!
I'm honoured to be able to do this.
Stephen ("Steve") Tecklenberg:
When the news of Russia's invasion of Ukraine first reached me last year, I instantly knew that this war could end up being one of the defining moments of European (even world) history.  I also knew that I did not want to merely be a bystander and watch it unfold from a distance.  At the same time, I also knew that I could not go to the frontline myself.  So, what to do?
Within days it became clear that the flood of refugees fleeing the war zone was going to reach crisis levels.  And that is when I knew the part that I was supposed to play:  do my best to help the displaced.
Our family was fortunate to welcome into our home several refugee families over the next few months.  My children volunteered time at a local charity ("Tabita's Sirds," located in Grobina, Liepaja and Kuldiga), sorting and helping distribute clothing and other items that refugees would need.  Our International Christian Fellowship ("ICF"), which meets at the Amrita hotel every Monday evening at 19:00 and of which I am one of the leaders, reached out to and welcomed several refugee families that were wanting spiritual care and the opportunity to spend time with other followers of Jesus Christ.
As an ex-pat myself, I know what it means to move away from one's homeland and try to establish a life in a new place.  But I chose to make this change for myself and for my family, and we did so over the course of a year or more of planning and preparation.  Our Ukrainian refugee friends did not choose their displacement, and they did not have the ability to prepare for it ahead of time.  Everything new, all at once – and unwanted.  In that context, I began to really admire them, their resilience and their capacity to change and adapt so quickly.  And yet, I could also see their need for security and a sense of belonging.  Ultimately, I know I cannot meet those needs.  I can only try to befriend them, and be a safe and trustworthy person for them.
I met Anita at our ICF Christmas party in early December.  She told me of this English language club for Ukrainian refugees.  I am not an English teacher, but I immediately recognized this program as something I wanted to help with - even if my role was simply to be a friend.  Of course, I pitch in and help with the teaching as the others desire, but I leave the planning to them.  And they have done an excellent job not just teaching a language, but forming a welcoming community.
We all pray for a swift end to this war.  When that day comes, though, our happiness for our friends' ability to return home will be tempered by the sadness at seeing them leave.  They are special people, and I have been blessed to be able to know them.
My name is Scott Brickman. I'm a Music Professor from the United States. I have Latvian ancestry on my father's side (Brikmanis) and am currently in Latvia on Sabbatical, or Academic year, researching Latvian Music.
I compose music and my music has been performed throughout the United States as well as in many parts of Europe, including Ukraine. I have many Ukrainian friends, both musicians and non-musicians. When the war broke out last year, it was not some abstraction to me because many of my friends were and still are being impacted by it.
I am both a cancer survivor and a cancer patient. Because I have stage 4 metastatic cancer, even though it is in deep remission now for almost three years, I will be a cancer patient until there is a cure for the disease.
Moving forward with my life I feel more than ever, strongly about doing things that are "bigger than myself". I have always been active in volunteer efforts, but they tended to be locally based rather than ones that have a global significance.
I thoroughly enjoy my work with Radi Vidi Pats. As I have told my students, of course I want them to learn English, but my time with them is about more than learning English. I find I learn so much from them in their quest to learn English, both about life and my journey learning Latvian and Ukrainian. I'll end by paraphrasing a quote of Ivan Franko that someone very dear to me recently shared: "Life is only valuable as long as one can help others". Slava Ukraine.
My name is Lindsay Davison. I'm from Canada and work as a musician in Liepāja Symphony Orchestra. I became a volunteer helping to teach English to Ukrainians late last year. A friend of mine suggested I join her one evening to help teach a lesson. I had so much fun with the group, I decided to continue helping as much as I could each week. I've always loved meeting new people and learning about different cultures and it has been a really lovely opportunity to make connections, help others grow and learn, and make lots of new friends. Thank you so much to Levan for setting up many of the events and opportunities for us all to connect and learn, and for adding so much fun to the International community here in Liepāja!
PERSONAL (Levan):
Besides the professional development, it turned out that life as a volunteer was full of new things and I really couldn't imagine that I would be so happy with the challenges and new things.
In Latvia, I experienced the most unusual birthday, which I didn't really want to celebrate. My organisation and friends organised a surprise for me, and for the first time I was really surprised by the surprise. They really gave me this day as a present.
You probably know the Latvian climate and the never-ending battle of human immunity, but in February it defeated my immunity for the first time and rewarded me with an unexpected virus, although there were no limits to the surprise, many greetings, help, support and boundless love, I was not alone here, with my new friend I was standing!
At the moment some things still bother me, some I can't get used to and they are unacceptable, but after 4 months and so much love from people I wonder if I am a foreigner and an expat in Liepaja society?:)))